Magnetic Flow meters.
We offer magnetic (also known as electromagnetic) flow meters that measure the flow rate. These instruments can measure the flow rate of any conducting fluid that typically has a conductivity greater than 50 Micro Siemens. The principle of operation is that when a conducting fluid flows through the flow tube, a voltage that is proportional to the flow rate is generated in the field created in the solenoid.
A Magnetic flow meter can be used to measure any conducting liquid. Since there are no obstructions in the tube there is no pressure drop and the flow rate of a liquid with impurities too can be measured as long as it is conducting. This type of flow meter has no moving parts and is of high accuracy. These flow meters can be used in explosive environments as well and are highly durable.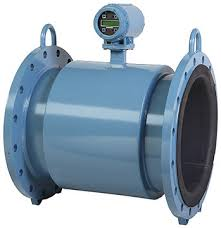 Applications of Magnetic Flow Meters
Water lines in food production, power generation or other applications
Water lines in cooling plants
Sea Water and Raw Water intake lines
Sea Water and Raw water intake lines with impurities
Product Data Sheets
Rosemount 8700 Series – Download
Rosemount 8750W Series – Download